RCRA 8-hour Refresher Training
RCRA 8hr Training & Certification Refresher Course
The Resource Conservation and Recovery Act (RCRA) gives the EPA the authority to control hazardous waste – which includes the generation, transportation, treatment, storage, and disposal of hazardous waste. The RCRA is the law that creates the framework for the proper management of hazardous and non-hazardous solid waste. The RCRA regulations are contained in Title 40 CFR Parts 239 – 282.
Mandated Required Training
The EPA requires mandatory RCRA Training for:
Personnel working on-site at a Large Quantity Generator (LQG) of hazardous waste who handle hazardous waste as part of their job (i.e. 'RCRA Personnel' or 'Hazardous Waste Personnel'). It may include part-time or temporary workers, contractors, consultants, and off-site managers.
All personnel whose job responsibilities bring them into contact with hazardous waste or will respond to a hazardous waste emergency.
Anyone who prepares a hazardous waste for off-site shipment or signs a manifest must also have the triennial HazMat Employee training required by PHMSA at 49 CFR 172, Subpart H. 
The RCRA refresher training course meets EPA's annual training mandate for hazardous waste personnel and covers the RCRA management, storage, and disposal requirements for hazardous waste generators under 40 CFR Parts 260-279.
RCRA 8 hour
RCRA Resources
RCRA Regulations
RCRA Refresher Training – 8hrs
Description: The RCRA/EPA Hazardous Waste Management Annual Refresher Certification was developed to keep you and your management staff ahead of the State and Federal laws governing compliance, with 40 CFR 262.34 and 265.16.
After completing the "Initial" Hazardous Waste Management training, the EPA requires you complete an annual refresher to stay current of changes in regulations and to refresh the student's knowledge the EXTENSIVE regulatory requirements contained in this training.
The Environmental Protection Agency (EPA), requires all facilities that generate hazardous waste, have training that includes detailed regulatory requirements. Training topics include: Emergency response, waste characterization, transportation container marking and labeling, waste minimization, and manifesting.
Newly updated! Fully interactive training written by industry experts!
Hours: 8 hours
Pre-Requisites
There are no regulatory requirements listed for this course, but this refresher course and is intended for individuals who are familiar with both RCRA and DOT requirements. It is not recommended as initial training.
Intended Audience
This course is intended for environmental professionals who are:
Involved with handling, shipping, or receiving hazardous materials, including samples of hazardous waste; and
Involved with managing hazardous wastes. This may include engineers; scientists; geologists; facility personnel; field technicians; samplers; drillers; laboratory technicians; and shipping & receiving personnel.
Learning Objectives
At the conclusion of this course, you will be able to:
Explain the importance of RCRA regulations in managing hazardous wastes.
Describe the standards used for different types of hazardous waste treatment, storage, and disposal facilities.
Implement hazardous waste management systems to achieve and maintain compliance.
Discuss the financial assurance requirements for corrective actions under RCRA.
Discuss a manifest system including discrepancies, unmanifested waste, and operating records.
Identify requirements for the monitoring, recordkeeping, and closure procedures of hazardous waste.
Properly identify hazardous wastes according to RCRA regulations.
Discuss the elements of a waste management system for municipal solid waste and industrial waste.
Lessons Covered
Per EPA regulations, Individuals who complete the Hazardous Waste Generator Training required under 49 CFR 262.34 and 265.16 must complete an ANNUAL refresher course that covers the 12 sections outlined in EPA's training requirements including:
History of the RCRA Law
Solid Waste, Hazardous Waste, and Recycling
Summary of Regulations for Generators of Hazardous Waste and TSDFs
Generator Regulations
Transporter Requirements
HAZWOPER (Hazardous Waste Operations and Emergency Response)
Incinerators, Boilers, and Industrial Furnaces
RCRA Air Emission Standard
TSD Facility Requirements
Used Oil Management
Land Disposal Restrictions
Underground Storage Tanks
Module Quizzes and Final Exam
All module quizzes require a score of 70% to proceed forward in the course. The exam will test your knowledge on information covered throughout the course. You must make a score of at least 70% to pass this course. You will be given up to three opportunities to pass each quiz and the final exam. If you do not pass after three tries, you will be locked out of this course will no longer be able to take your Outreach training in an online format.
Course Completion Certificate
Upon successful completion of the course, you will receive a printable certificate of completion which is accepted by OSHA as documentation of training.
RCRA Regulations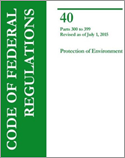 The RCRA regulations are contained in Title 40 of the Code of Federal Regulations (CFR) – Protection of Environment: Parts 239 through 282 (See below).
In any given state, EPA or the state's hazardous waste regulatory agency enforces hazardous waste laws. EPA encourages states to assume primary responsibility for implementing a hazardous waste program through state adoption, authorization and implementation of the regulations.
Non-hazardous Waste
Title 40 of the CFR parts 239 through 259 contain the regulations for solid waste. The requirements for underground storage tanks, which are also regulated under RCRA, are located in title 40 CFR part 280. A list of all solid waste regulations with links to the regulatory text is provided below:
Hazardous Waste
The regulations governing hazardous waste identification, classification, generation, management and disposal are found in title 40 CFR parts 260 through 273.
Other RCRA regulations
EPA also established regulations for managing used oil and standards for underground storage tanks, which can be found in title 40 CFR parts 279 through 282.
RCRA Online Training Requirements
In addition to the initial RCRA training, 40 CFR265.16(c) requires "facility personnel must take part in an annual review of the initial training."
The training requirements for SQGs are found in 40 CFR Part 262.34(d). SQGs must ensure that their workers are: "…thoroughly familiar with proper waste handling and emergency procedures relevant to their responsibilities during normal facility operations and emergencies". This may require annual training by a facility or some other type of instruction appropriate to the wastes handled at the SQG site.
DOT's training requirements for shipping hazardous materials are located in 49 CFR Part 172 Subpart H.
In addition to initial training [49 CFR 172.704(c)(1)], DOT requires "recurrent training" every 3 three years. "A hazmat employee shall receive the training required by this subpart at least once every three years." [49 CFR 172.704(c)(2)].
DOT requirement for refresher training is only once every three (3) years.
Refresher Training Required: Every 1 year(s).
Disclaimer: The information presented on this website has been compiled from Federal and State sources and documents believed to be reliable and represent the best professional judgment of HAZWOPER Training. The accuracy of the information, however, is not guaranteed, nor is any responsibility assumed or implied, by us, and/or any other individual or entity assopciated with HAZWOPER Training, as applicable for any damage or loss resulting from inaccuracies or omissions. Contact federal or state agency staff to verify information.