Nearly 13,000 American wo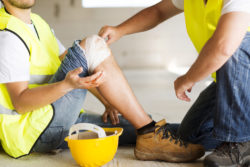 rkers are injured each day. These numbers are staggering, and the worst part is that each one is preventable. Taking preventative action with proper safety training can spare workers needless pain and suffering.
Bureau of Labor Statistics (BLS):
Employer Reported Workplace Injuries & Illnesses – 2015
There were approximately 2.9 million nonfatal workplace injuries and illnesses reported by private industry employers in 2015, which occurred at a rate of 3.0 cases per 100 equivalent full – time workers, the U.S. Bureau of Labor Statistics reported. The 2015 rate continues a pattern of declines that, apart from 2012, occurred annually for the last 13 years.
BLS News Release: Employer Reported Workplace Injuries & Illnesses – 2015 (PDF)

HAZWOPER Training 8hr/24hr/40hr
The OSHA HAZWOPER Standard (29 CFR Part 1910.120) – requires that all workers that are exposed to or handle hazardous materials must take a 24hr or 40hr HAZWOPER Training Course and an 8hr Annual Refresher.
8hr Refresher: $40 / 24-hour: $155 / 40-hour: $255
10% OFF SALE: Enter Promo Code "TRAIN10OFF" at Checkout
Private industry employers reported nearly 48,000 fewer nonfatal injury and illness cases in 2015 compared to a year earlier, according to estimates from the Survey of Occupational Injuries and Illnesses (SOII ) . Because of this decline, combined with an increase in reported hours worked, the total recordable cases (TRC) incidence rate fell 0.2 cases per 100 full – time workers.
The fall in the TRC rate was driven by a decline in the rate of cases involving days a way from work (DAFW) and other recordable cases (ORC) — each falling 0.1 cases — as the rate for cases of job transfer or restriction only (DJTR) has remained at 0.7 cases since 2011.
BLS News Release: Employer Reported Workplace Injuries & Illnesses – 2015 (PDF)
National Safety Council: Workplace Injuries Infographic

Provided by the National Safety Council